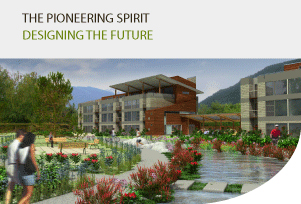 Inspired by the cone of a majestic British Columbia coniferous tree, which germinates from a seed into a giant, the identity for Chandra Krishnan Kitsault represents the spirit of limitless possibility that serves as the very foundation of the community's revitalization.
For more information on our town, feel free to download our information pamphlet or book (both PDFs).
If unable to open the flip-book or pamphlet, Click here to download Adobe Reader.
Establishment of LNG Plant, Refinery, and Export Terminal in Kitsault, BC

On January 8th, 2013, Kitsault Resorts announced the plan of establishing an LNG plant, refinery, and export terminal in Kitsault, BC.
The proposed facility will provide export of energy products and pipelines will be established for oil, natural gas, and refined petroleum products that will travel to Kitsault from Alberta as well as from Northeastern British Columbia. These products will be shipped to Asia and other high demand markets. This project is estimated to cost $20 to $30 Billion CAD/USD. We will be working with a consortium of energy producers, governments, customers, engineering firms, investors, First Nations, and others to accomplish these goals.
Click here to read the official press release.