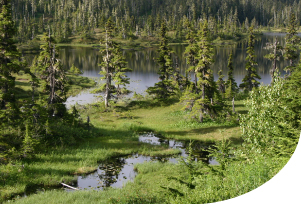 Respecting the natural environment in a responsible and sustainable manner, allowing the complimentary coexistence between our community and the wild to flourish.
It is a privilege and a responsibility to preserve the breath-taking beauty of the landscapes, forests and wildlife surrounding Kitsault. It is truly "Heaven on Earth". Kitsault will continue to grow and evolve as years go by. It will be a unique destination, weaving together environmental conservation, native culture and customs and the ethical relationship between people and the land. The Kitsault community is working with its First Nations neighbours to establish a successful and sustainable eco-tourism industry in the Pacific Northwest that will draw visitors from the rest of North America and the world. The goal is to walk together and to tread lightly on the earth.
For more information, feel free to download our information pamphlet or book (both PDFs) about the town. The book can also be accessed in flip-book format (SWF).
If unable to open the flip-book or pamphlet, Click here to download Adobe Reader or Click here to download Adobe Shockwave.